Reasons We Love Bill Nye (Y'Know the Science Guy)
---
Warning: nostalgic story incoming.
Remember those days when you used to grab a juice box, turn on the TV and watch "Bill Nye the Science Guy"? Well if you're anything like me, that was Sunday morning. In recent news, Netflix announced a new show staring Nye appropriately named "Bill Nye Saves the World". This announcement brought back all the memories of why we love our scientific role model.
In 2017, we're doing a talk show with @BillNye. It's an experiment. pic.twitter.com/gE4bOIhV6a

— Netflix US (@netflix) August 31, 2016
He is an advocate for climate change 
Time and time again, Bill Nye has stood on the side of science—especially on the much larger topic of climate change.
Can't say with 100% certainty that it's climate change. What % do we need? pic.twitter.com/GhUv6EEamY

— Bill Nye (@BillNye) May 31, 2016
And calls people out when they don't believe in science
He isn't afraid to drag people who don't believe in cold hard facts. Drag them, Bill!
Seems that @realDonaldTrump is unaware that everyone on Earth shares the same air. https://t.co/fxdZ80dge1

— Bill Nye (@BillNye) May 29, 2016


Two words: bow ties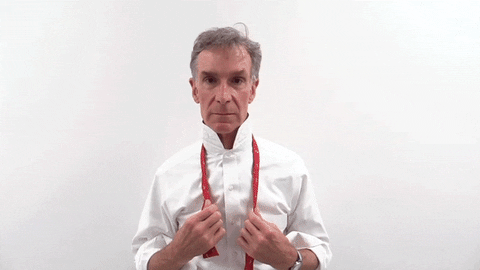 GIF courtesy of giphy.com
If you have noticed anything about Nye, it's his never-ending sense of style. Not only does he rock the scientist look, but his Doctor Who-ish sense of style is shown through some rather awesome bow ties.
His appearance on Dancing With the Stars (DWTS)
Maybe it was his sense of fashion, or maybe it was his publicist. Either way, who could forget when our favorite scientist put down the lab coat and put on his dancing shoes and danced the night away with Tyne Stecklein on DWTS?
He gets nerdy around science stuff (is that even a surprise?) 
While most of us are taking selfies at the beach or with our food, Nye is taking selfies in front of some amazing scientific achievements.
Cold cold cold vacuum chamber testing #JWST mirror joints. Brrrr… 10 kelvins!!! pic.twitter.com/4uKfBFBE9g

— Bill Nye (@BillNye) May 19, 2016
Awaiting Jupiter Orbital Insertion (JOI). It's rocket science! Happy 4th. @NASAJuno @exploreplanets pic.twitter.com/q444Fhksfk

— Bill Nye (@BillNye) July 5, 2016

I think that smile tells us just how he feels.
His bromance with Neil deGrasse Tyson
This real life
Tony Stark/Bruce Banner
bromance proves that even the smartest minds have free time to relax and just talk. However, most of us would probably not be able to keep up with the conversation.
Don't ever let them tell you science isn't cool. @neiltyson pic.twitter.com/OjDI51e8HM

— Bill Nye (@BillNye) June 9, 2016
His regular appearances on StarTalk Radio 
If you are curious about just what Nye converses about, then check out StarTalk. Nye frequently appears on this YouTube podcast hosted by his friend, Neil deGrasse Tyson.


His "Bill Nye the Science Guy" TV show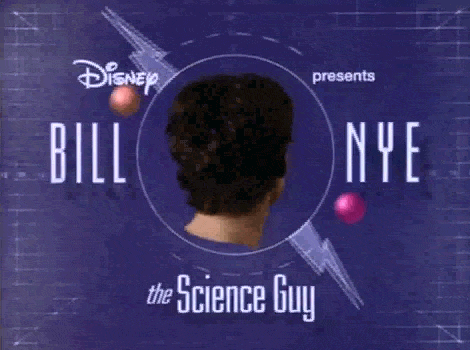 GIF courtesy of giphy.com
This show was amazing because of how unforgettable everything was—from the puns ("What's the matter? Everything is matter!") to the theme song. Regardless of what made you love the show, it always reminded us that science rules! 
He made science bearable in school 


Nothing really compared to walking into class and seeing the TV set up with an episode of Bill Nye ready to play! Science can be complicated, but Nye guided us out of our confusion and showed us that science can be cool.

Why do you love Bill Nye the Science Guy? Share with us using the hashtag #CampusCropChat on Facebook, Twitter and Instagram. Don't forget to follow us on Snapchat @asicpp!