Ups and Downs of Rio 2016
---
We couldn't take our eyes away from Rio 2016. The constant coverage provided us with glorious showcases of athleticism and sportsmanship, as well as controversy. As emotional as the 16-day-long event was, we can't help but relive it one more time. Here are some of the Rio highlights that made us feel all sorts of ways.
The Ups 

The creation of the refugee team


Image via qz.com

The International Olympic Committee (IOC) set a precedent in Rio this year by creating the Team of Refugee Olympic Athletes (ROA). With athletes from South Sudan, Syria, the Democratic Republic of the Congo and Ethiopia, ROA was a chance for the best athletes from these conflict-torn countries to reach their Olympic dreams. We heard inspiring stories from these Olympians, such as Yusra Mardini, a swimmer who guided a boat of fellow refugees to safety and Anjelina Nadai Lohalith, who was separated from her family at 6 years old. The courage of these Olympians opened the eyes of many viewers to the international refugee crises happening around the world and set the stage for future refugee athletes to compete in the games.
Women basically dominated the Olympics this year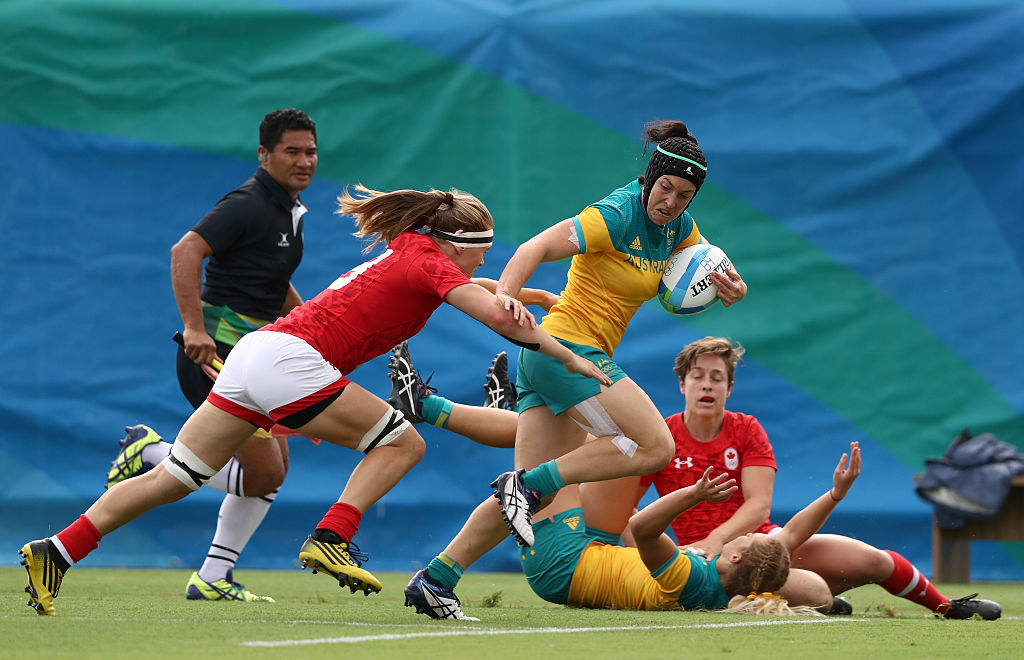 Image via rio2016olympics.com

Women were all over Rio headlines. Out of the 121 medals Team U.S.A. won, women earned 61 of them. Many of the biggest names we heard in Rio belonged to women (Simone Biles, Katie Ledecky, Allyson Felix, etc.). Female Olympians set many precedents, including Ibtihaj Muhammad who became the first Olympian to compete in a hijab. Women kicked butt in their respective sports. I mean, did you see the women's rugby final? Raw girl power right there.
Everything U.S.A.'s women's gymnastics team did


Image via yahoo.com

London 2012 gave us the Fab Five but Rio gave us the Final Five. Made up of Team U.S.A. vets Aly Raisman and Gabby Douglas, the Final Five brought along three fierce Olympic newcomers, Simon Biles, Laurie Hernandez and Madison Kocian, who catapulted U.S.A.'s women's gymnastics to gold yet again. Everything from Biles' signature move "The Biles" to Hernandez's impeccable floor routine and confident wink floored us.
Michael Phelps ended his Olympic run with an impressive 28 medals to his name


Image via baltimoresun.com

Michael Phelps surprised us all when he announced that Rio 2016 would be his last Olympic games. We all watched in anticipation to see if he could out-Phelps himself and sure enough, he powered through the 400-meter medley relay, winning his 23rd gold and 28th overall Olympic medal. Phelps' win was an especially emotional one for us because not only did he defend his title as the most decorated Olympian ever, but we got to see our resident Olympic hero go out on a high note.
Fu Yuanhui's reaction to finding out she won bronze


Image via dramafever.com

From the heart-wrenchingly overwhelmed to the pure joy of winning an Olympic medal for the first time, the best part of each medal ceremony was definitely the reactions. One of the most genuine reactions of the games belonged to Fu Yuanhui of Team China, who rightfully freaked out when she found out she won bronze in women's 100-meter backstroke. Check out her reaction the second she realized she placed here.
Distance runners Nikki Hamblin and Abbey D'Agostino showed true Olympic sportsmanship on the track


Image via yahoo.com

The Olympic games aren't as much about how many gold medals you win as they are about a celebration of sportsmanship. Two long-distance runners, Nikki Hamblin and Abbey D'Agostino, showed just that when an accident on the track left D'Agostino on the floor in pain. Rather than speed past her and finish the race, Hamblin stopped to pick up her competitor and encouraged her to finish the last leg of the race. It was an act of pure selflessness fitting of the Olympic spirit. In fact, the two were presented with the very rare and prestigious Fair Play Award "for two separate acts of selflessness and exemplary sportsmanship."
Joseph Schooling beat his swim idol in his first Olympic games, winning Singapore's first Olympic title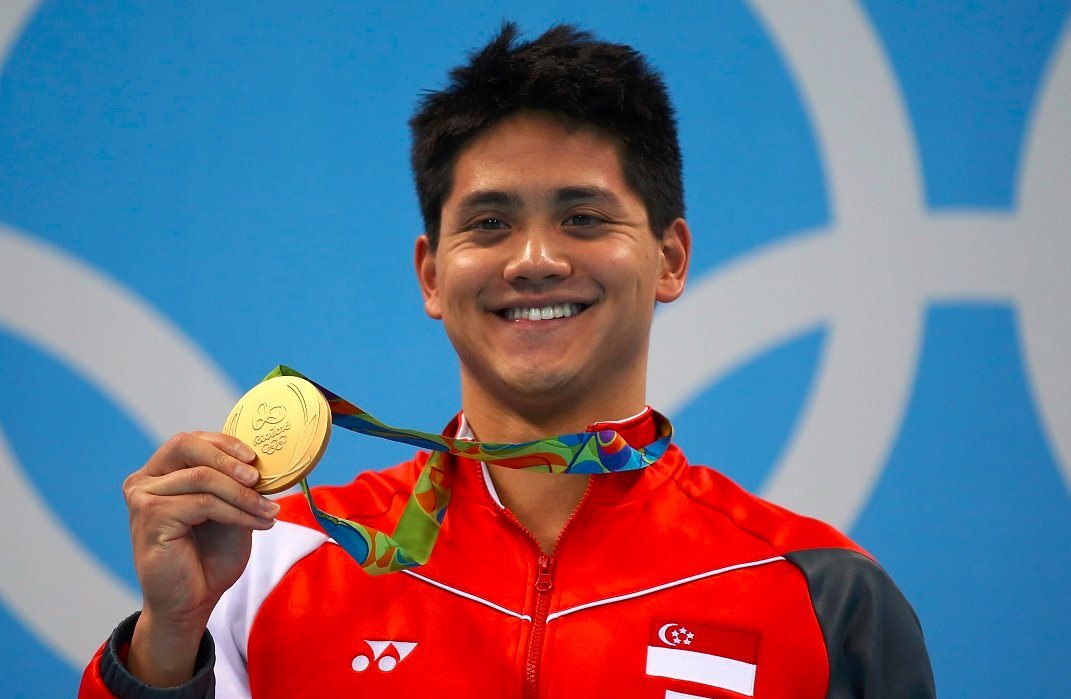 Image via coolerinsights.com

This may have been one of the biggest plot twists of Rio 2016. 21-year-old Joseph Schooling achieved the seemingly impossible: Schooling won gold in the 100-meter-butterfly against swim legend Michael Phelps. Between winning the first gold medal for both himself and Singapore, Schooling's gold medal finish was a classic underdog story.
The Downs

The way the media kept underplaying the success of female Olympians


Image via theodysseyonline.com

Even though female Olympians clearly held their own, multiple media outlets seemed to lose that message with their sexist headlines. A few samples: "Wife of Bears' lineman wins a bronze medal today in Rio Olympics" via the Chicago Tribune, a BBC reporter called women's judo a catfight, the intense body-shaming that Mexico's Alexa Moreno received and, of course, Hungary's Katinka Hosszú's husband being credited as her reason for a gold medal. I'm just going to leave that there.
When the Williams sisters lost doubles in the first round


Image via mieasia.fi

Venus and Serena Williams have become globally recognized queens of tennis, so we were all confident that the sisters were going to win gold in doubles, until they were out in the first round. It was a devastating blow to fans, for sure, but it also served as a reminder that the Williams sisters are allowed to slip up sometimes, just like the rest of us.
Wilhem Belocian's false start at his first Olympics


Image via olympics.cbc.ca

Nothing can be worse than finally making it to the Olympics only to make a technical mistake at the starting line, which is exactly what happened to Wilhem Belocian, who false started in the men's 110-meter hurdles preliminary. Unlike other Olympic sports that give athletes a second chance, track is notorious for disqualifying runners with no do-overs. We all watched Belocian's Rio dreams fall on that track, but hopefully he'll be back for Tokyo 2020.
Ryan Lochte "over-exaggerating" the events in Rio


Image via cnbc.com

And then there was Ryan Lochte. Following a number of claims from athletes staying in Rio that they were being harassed by local police, Lochte's claim of being held at gunpoint by Rio police seemed believable. Well, until his story changed and a surveillance video surfaced suggesting that Lochte and his crew had schemed up a huge cover-up for a simple altercation at a gas station. Lochte now faces some major repercussions, including the loss of major sponsorships from Speedo, Ralph Lauren, Airweave and Gentle Hair Removal. This is why you don't lie to your parents, kids.
What were some of the highs and lows you experienced during Rio? Share with us using the hashtag #CampusCropChat on Facebook, Twitter and Instagram. Don't forget to follow us on Snapchat @asicpp!