Memorable Moments in Olympic History
---
When we think about the Olympics, we think about strength, dedication, sacrifice and the almost superhuman feats performed by the best athletes in the world. Since the start of the modern Olympics in 1896, Olympians have consistently broken records and written history. Since none of us were around in 1896, let's look back at some of the most memorable moments in Olympic history during our lifetime:
The Dream Team (1992)
Image via si.com
The Dream Team was destined to break records since its inception. With Michael Jordan, Magic Johnson and Charles Barkley on the roster, it was a given. This was a big deal because this was the first time pro-NBA players were allowed to compete in the Olympics. The Dream Team dominated men's basketball, defeating all eight teams they played against. They won gold, obviously.
Muhammed Ali lighting the torch at Olympics centennial anniversary (1996)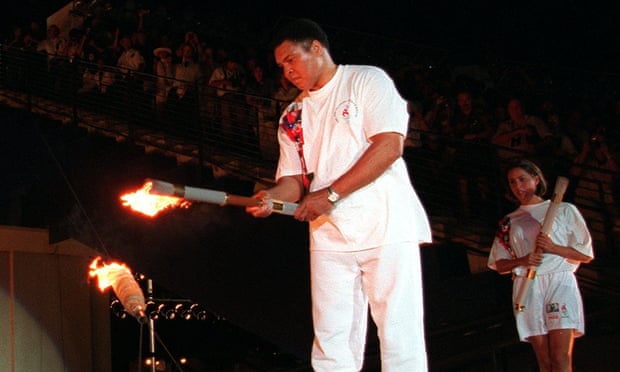 Image via theguardian.com
While his appearance at the 1996 Atlanta Olympics wasn't record-breaking, it was definitely an iconic moment when Muhammed Ali lit the Olympic torch during the opening ceremony. Ali first competed in the Olympics at age 16 where he won gold in boxing, kickstarting his career as the most celebrated boxer ever. Flash forward 36 years and "The Greatest" kicked off the Olympic's centennial celebration, a fitting role for the sports legend.
U.S. women's soccer wins gold (1996)


Image via fifa.com
Considering the fact that women's soccer wasn't officially a sport until the 1970s and that women's soccer wasn't even an Olympic sport until 1996, there were plenty of opportunities for this Olympic match to be ground-breaking. So it was definitely an awe-inspiring moment when the U.S. faced off against China, battling it out for the first-ever gold medal in women's soccer, and the U.S. team won, scoring 2-1.
Kerri Strug (1996)


Image via nydailynews.com
And then there is Kerri Strug, who may be one of the most well-known underdog stories of the Olympics. In 1996 the U.S. gymnastics team had yet to win gold, so the pressure was high when they were up against Russia. Strug, who was the last member of the U.S. team to step up to the vault runway, started off strong but unfortunately suffered from two torn ligaments in her ankle. In an incredible display of perseverance, Strug turned around to vault a second time and secured her team's first gold medal ever.
Usain Bolt (2008)


Image via zimbio.com
Usain Bolt first competed in the 2004 Olympics when he was 17. However, it wasn't until the 2008 Olympics that he bolted past his competition and broke the world record for the men's 4×100 relay, as well as the 100 and 200-meter race (9.69 seconds and 19.30 seconds respectively). A track star winning three gold medals and breaking three world records in one Olympic game? Unheard of. Catch him at the 2016 Rio Olympics to see if he makes history again.
Michael Phelps (2008)


Image via reuters.com
Since competing in his first Olympic game at age 15, Michael Phelps seemed destined for Olympic history. It wasn't until 2008 that he wiped the board and won eight gold medals in one Olympic game. Phelps has 18 Olympic gold medals, 22 medals total, making him the most decorated Olympian of all time.
Fierce Five (2012)


Image via tumblr.com
We all remember the Fierce Five for being the young, determined and dedicated troupe of gymnasts who won the gold medal in gymnastics at the 2012 London Olympics. Jordyn Wieber, Gabby Douglas, Aly Raisman, McKayla Maroney and Kyla Ross were under a ton of pressure since the U.S. gymnastics team hadn't won gold since 1996. They clinched the gold with a score of 183.596, beating long-time rival Russia. Douglas became a stand-out member of the team for her solid performance on the vault, uneven bars and floor performance that landed her an all-around title.
Katie Ledecky (2012)


Image via nytimes.com
Swim has a history of producing young record-breaking Olympians, like Missy Franklin, who broke the world record in the 200 backstroke when she was only 17. That same year, 15-year-old Katie Ledecky made her own memorable entrance when she won gold in the 800-meter swim freestyle in her first Olympic game. Not only was this her first gold medal, but she beat fellow American Olympian, Janet Evan's, 23-year-old record.
Nicola Adams (2012)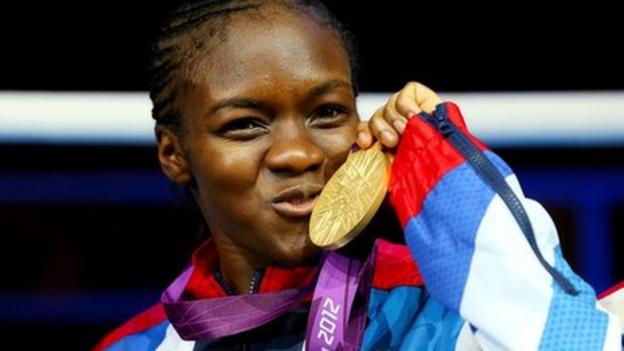 Image via bbc.co.uk
Four years ago, women's boxing was finally welcomed into the modern Olympics, catching up to their male counterparts that had been a staple of the games since 1904. That being said, Nicola Adams entered the arena and made history as the first Olympic Women's Boxing Champion, shutting down skeptics who believed women weren't "stable" enough to compete.
U.S. sets world record in women's 4×100 meter relay (2012)


Image via teamusa.org
Another iconic moment in track and field happened in the 2012 Olympic games when the U.S. broke the world record for women's 4×100 meter relay. Carmelita Jeter, Bianca Knight, Allyson Felix and Tianna Madison crushed the previous world record with a time of 40.82 seconds. Aside from beating a 27-year-old world record, this win was also the second ever gold medal for the U.S. in women's 4×100 meter relay. The team's victory in 2012 has them poised to win gold again in Rio, so keep an eye out. 

Did we miss any of your favorite Olympic moments? Who do you think will make history in Rio? Share with us using the hashtag, #CampusCropChat on Facebook, Instagram and Twitter. Don't forget to follow us on Snapchat @asicpp!