How We Really Feel About the Last Quarter of the Year (As Told by Nicki Minaj)
---
Spring Quarter is such a bittersweet time of the year—Spring Break has just ended, and we have ten weeks of straight grinding at school and work. But it's also the last quarter of the school year; for some, it's the last quarter, period (I'm looking at you, Class of 2015).
Ah yes, it's a very emotional time for all; if you can name it, we can feel it. Excitement, irritation, fear, joy, despair… here's a taste of the rollercoaster of emotions we choose to ride during this last quarter, as told by the Queen of Rap herself, Nicki Minaj:
Knowing this quarter is going to be a battle.


Bring it.
Still having some sort of motivation during syllabus week.


Let's see how long this studious attitude lasts.
When the professor makes you introduce yourself to the class.


Pleasure.
Realizing there aren't very many days off during Spring Quarter.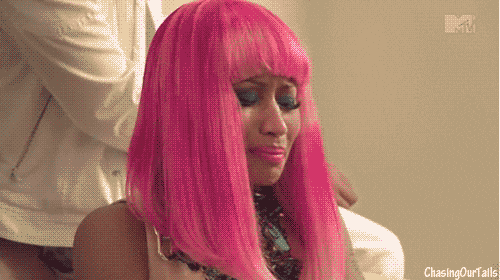 We've had 44 presidents—that's 44 birthdays and 44 possible days off. Come on, Obama, make it happen.
Realizing the professors in your new classes aren't going to be chill or laid back just because it's the last quarter of the year.


What do you have against me, huh?
Fighting through your senioritis (or in my case, simply chronic laziness), and forcing yourself to get out of bed and go to school.



By the way, what he say? He can tell I ain't gettin' no sleep.
Being the only competent one in your group projects.


You could at least try.
Being interviewed for a real world job as a graduating senior.


Please hire us.
Finally finding time during your busy schedule to work on your summer bod.


"The Bronco Recreation and Intramural Complex (BRIC) is my favorite gym in the world." – Nicki Minaj, probably
When that one annoying classmate thinks he always needs to comment.


There is a reason the professor is pretending not to notice your hand.
Getting ready to leave but being told by your professor she's not done lecturing.


Oh, you mean you didn't get your point across in the last seventy PowerPoint slides? Huh…
Using all the money you'll be making in the future as motivation to get that awesome GPA.


Make it rain, Broncos.
When your professor is handing back the paper you didn't do so well on.



If I look at it a certain way, maybe it'll look like an A.
When all your friends are graduating and leaving you behind to fend for yourself.


Shout out to all my coworkers…
Then attending their commencement as they all walk without you.


Fail a class and stay with me, please.
When summer finally arrives.


Just a few more weeks, Broncos!
I think we can all agree when I say Nicki Minaj explains it best—through all the ups and downs we'll face this quarter, these ten weeks are still going to be awesome.
Good luck, Broncos!
To keep up with all the programs, events and services Associated Students, Inc. (ASI) will be offering this quarter, like and follow us on Facebook, Twitter, Instagram and Snapchat @asicpp.