The Best Ways to Spend Your Summer Nights
---
Every summer, I find myself constrained to an air conditioned space, complaining that there's nothing to do—during the day that is. Luckily, summer nights in California usually hit a nice 80 degrees, which means you have no excuse not to go out. From movie nights to the great outdoors, the possibilities for a memorable night out are literally endless. Here are a few ways to stay cool these summer nights:
626 Night Market

Image via santaanita.com
Celebrating five years as a summertime classic, 626 Night Market is always a go-to during these hot months. From being credited as the largest Asian-themed night market in the U.S. to being name-dropped by Buzzfeed, they have to be doing something right, like serving up spicy tuna rice burgers. The best part of all: you can spend your whole night here bouncing from vendor to vendor thanks to their special 4th of July weekend hours from 4 p.m. to 1 a.m.
Backyard Camping

Image via tumblr.com
Ah, an alternative to camping for those of us who are terrified of the outdoors. Camping has a certain appeal to it but once you factor in the wild animals, bugs and lack of bathrooms it doesn't sound so great anymore, which is exactly why you should go camping in your backyard! Lay out some blankets, pillows, lanterns and a tent (for the full camping experience, you know) and kick back in the comfort of your own backyard without worrying about the stray mountain lion or dirt in your hair.
Art Walk

Image via discoverlosangeles.com
Art walks are great because they offer a glimpse into the talent your city is home to. Local artists and vendors set up shop outdoors; galleries, businesses and restaurants usually stay open late and there are always cool people to meet. Just being around all that talent encourages you to become a more creative person. Downtown Pomona hosts an art walk every second Saturday of every month. Be sure to check out The Glass House Record Store if you go!
Pop-up Kitchen

Image via willbryant.com
The culinary scene is kind of a thing right now. Trendy food channels like Munchies, Hollywood movies like Chef and foodie blogs are popping up everywhere—let's take the time to appreciate this heavenly moment. One such foodie trend is the pop-up kitchen. Usually hosted at art walks, galleries or community gardens, pop-up kitchens are a cool place to meet new friends and enjoy food from up-and-coming talent for a relatively inexpensive price. A good place to start: Chef Elisa LaSalle's pop-ups in the Riverside area.
Bonfire

Image via tumblr.com
The Californian solution to avoiding 100-degree weather? Beach day. Cliche yet classic, bonfires are the perfect way to stay cool at night, considering that it's a good 10 degrees cooler by the coast. If you don't want to deal with burning your feet on the sand all day, head out to your favorite beach once the sun sets. Caution: if you arrive at the beach too late, all of the fire pits will be taken. I recommend arriving at the beach earlier in the day. Or you can fight for a pit at 8 p.m. Find out if your favorite beach will let you have a bonfire here.
Night Swimming

Image via tumblr.com
Even if you have a bonfire, that doesn't necessarily mean you're going to go for a swim (don't mess with that high tide). Instead, take a dip in your pool, or a friend's, for a refreshing night swim after the day cools off. Perks: stargazing from the water is unreal.
Chinatown Summer Nights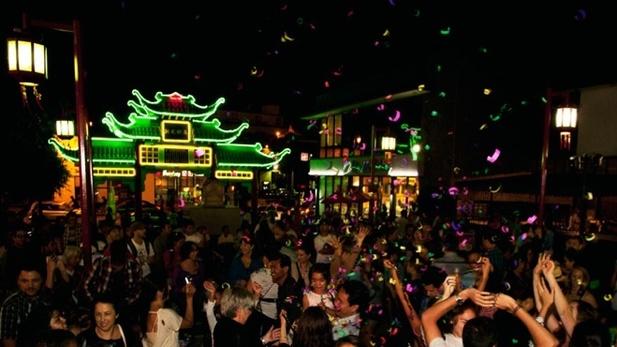 Image via timeout.com
One of my favorite things to do over the summer is to go to the Chinatown Summer Nights series. Every third Saturday of the month from June 19 to Aug. 20, Chinatown's Central and West Plaza becomes an outdoor market featuring local vendors, gourmet food trucks, culinary shows, traditional Chinese dances and DJ sets courtesy of a local radio station, KCRW. It's free to the public, it's nighttime—what are your excuses not to go?
Nighttime Movie Screenings

Image via cinespia.org
California's love of film and aversion to heat join together to bless us with special nighttime movie screenings. Cinespia's movie screenings at The Hollywood Forever Cemetery have become an iconic L.A. nightlife staple because of the classic films screened there, the gorgeous photo booth and the potential celebrity sighting. Another notable theater is The New Beverly Cinema. Owned by Quentin Tarantino, the theater is known for its double features and midnight showings of cult classics like Purple Rain. Very Tarantino.
Night Hikes

Image via hikingangelesforest.com
I usually don't like hiking because I don't like sweating but I guess if the sun's down, I'll do it. Thankfully L.A. has plenty of hiking spots that stay open through the night for those of us who prefer to avoid the heat. One such hiking spot is Stough Canyon, known for its staff-lead hikes every full moon and an awesome view of downtown L.A.
Beat Swap Meet

Image via beatswapmeet.com
Pretty much exactly what it sounds like, the Beat Swap Meet is an open air market where record vendors and enthusiasts come together and geek out over each other's collections. Most of the records are a fair price and some are ridiculously inexpensive (I once bought a Donna Summer record for $1). Aside from records, Beat Swap Meet also features DJ sets, live art installations, dance competitions and a vendor village.
We are spoiled with perfect weather here in California, so be sure to take advantage of it this summer! Whether you are the outdoorsy type or not, there is always a way to spend a good night out.
Share your favorite ways to spend your summer nights using the hashtag #CampusCropChat on Facebook, Instagram and Twitter. Don't forget to follow us on Snapchat @asicpp!