How to Not be a Tourist
---
Who wouldn't want to capitalize on time off from work or school and use it to explore a new place? Yeah, no one. However, if you've ever traveled or found yourself living in a trendy destination city *cough cough L.A.*, then you know what a hopelessly-lost traveler looks like, a.k.a. a tourist.
Here are some dos and don'ts to help you travel with the ease and style of a local, while still living the tourist experience.
Do learn about where you're going.
Gif via giphy.com
First thing first: research your destination. It sounds amazing to spontaneously drive to the airport and hop on the first flight out like Jim Carrey in Yes Man, but if we're being honest here, that's not practical. Instead, take the time to plan out your trip. If you're going out of the country, brush up on the basics of the local language to avoid accidentally offending anyone. Even if you're staying in the United States, take the time to look up cultural norms. For example: When I visited my family in Utah, I learned that most businesses are closed on Sundays so it's best to stay in. It's better to have a general idea of what to expect rather than no idea at all.
Don't make the mistake of dressing like "The Tourist."
Gif via tumblr.com
Growing up in Southern California gives you easy access to places like Downtown Disney and the Hollywood Walk of Fame (otherwise known as tourist traps), so it's highly likely that you have seen your share of families wearing matching shirts and walking around with maps in front of their faces. You don't want to get pegged as a tourist and end up buying over-priced novelty gifts. After all, you wouldn't want to let your outfit choice detract from your experience.
Do have an insider.
Gif via giphy.com
It is incredibly easy to get lost whenever you travel. Whether you get lost in a park, a museum or a whole city, trying to find your way back can be time-consuming. Try following the example of (my fave) travel writer Anthony Bourdain, who always has a friend to guide him through his travels. Not only will you avoid getting lost, but you will end up seeing some of the greatest, lesser known spots that only a true local would know—like that time Bourdain got to watch a traditional flamenco performance in the caves of Granada, Spain.
Don't invade the personal space of locals.
Gif via blogspot.com
There is a theory in intercultural communication that the locals in tourist communities either retreat from or embrace tourists. Don't be the kind of tourist that locals run away from. By this, I mean that it's OK to be interested in a new place and its culture, but don't go overboard and invite yourself into someone's home or invade someone's personal space with questions unless you are invited to do so.
Do give yourself enough time.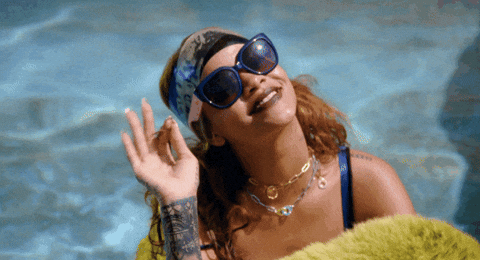 Gif via giphy.com
This might be one of the most important takeaways: never travel in a rush. You may want to hit every landmark, museum and Instagram-worthy cafe you encounter, but you don't want to be that person cramming the entire history of a country into three days. Plan an itinerary, space out your activities and account for the time it will take you to thoroughly enjoy each one. Sure, it may not be that spontaneous but with a little time management, you can make the most out of any travel experience.
Vacation is about giving yourself time off to relax, exploring a new place and getting away from whatever you have going on. Make the most of it by avoiding travel cliches!

Share with us how you'll be making the best of your summer travels! Let us know using the hashtag, #CampusCropChat on Facebook, Twitter or Instagram and remember to follow us on Snapchat @asicpp.