10 Non-Basic Ways to Spend Spring Break
---
Spring break is finally here! You deserve the week off after surviving finals *whew*. Now for the real question—how are you going to spend it? If you want to avoid spamming your friends with photos of poolside parties in Palm Springs, then this piece is for you. Here is how to avoid being basic this spring break:
1. Go outside.The National Parks turn 100 this year. To thank Mother Earth for blessing us with a century of natural wonders such as Yellowstone, Yosemite and the Grand Canyon, the National Parks Foundation is celebrating all year long.
Become one with nature at your favorite national park. Find a list of California's national parks here.
Image courtesy of flickr.com

2. Pay The Broad a visit.
By now you have probably heard of The Broad, L.A.'s newest contemporary art museum, namely because of its endless photo opps. Photo opps aside, this museum is a must.
With works by iconic artists such as Jean Michel Basquiat  and Keith Haring, The Broad has already become a staple in the L.A. art scene. Be sure to check out the Infinity Mirrored Room  installation and Jeff Koon's massive balloon animal collection. Your friends in Cancun will be jealous.
Image courtesy of thebroad.org 
3. Go snowboarding.El Nino has blessed California with 80-degree days and 4-inch snowfalls. In other words, Mountain High and Big Bear are still dumping! Take advantage of this weather anomaly and hit the slopes all the way into spring. Don't forget, you can still grab tickets to Mountain High at our very own
BSC, Games Room
(Bldg. 35-1110).
And yes, this picture was taken in March.

4. Take a day trip.
Unfortunately it isn't possible for all of us to spend spring break on a cross-country road trip or at a beach in Mexico. You're in luck Bronco, since we are in the Golden State, there is plenty for you to do.
Check out Northern California for a more laid back week. Swing by Point Reyes to spot gray whales and elephant seals on their home turf, or check out the Tenderloins art district in San Francisco to beef up your art history and see some of the best street art in the state.
Image courtesy of blog.sfgate.com

5. Learn how to cook.
Why not? You know you have time. Here are some quick and easy recipes for some of your faves:
Poke. Whether you go to North Shore Poke in Huntington or Hibachi-San on campus, we all know poke is having a moment. As it should; it's fast, convenient and the next best thing since sushi burritos (remember those?). Anyway, turns out rapper Action Bronson is a huge foodie himself. He even has a show where you can learn how to make tuna poke.
Image courtesy of tumblr.com

Acai bowl. A super food that's actually good? And pretty? OK, so maybe healthy food doesn't need to be pretty, but it helps. Save yourself the hassle of deciding between wheat grass boosters or chia seeds and make it at home in the comfort of your jammies. Find out how here.
Image courtesy of tumblr.com

Bao.
Bao has been gaining popularity in the past couple of years thanks in part to Eddie Huang's Bao Haus in NYC and tons of hype from foodie blogs. Luckily for Californians,
Bao Hogs
 just opened up in Garden Grove. If Garden Grove is a bit of a drive for you, no worries. Find out how to make your own Bao courtesy of 
Munchies
 .
Image courtesy of munchies.vice.com.

6. Browse through your local swap meet.
Swap meets get a bad rap for being crowded, loud and frankly, cheap. If you stick it out, you'll be surprised at what you find! Check out this local gem, Maclin Auctions and Open Air Shops, a.k.a the Chino swap meet. Here you will find exotic birds (yes, toucans and peacocks included), authentic leather goods from Mexico and the best fresh fruit for you to snack on while you dig around.
With free parking and a fee of 50 cents, how can you say no?

Image courtesy of 101thingstodo.com
7. Take the Metro through L.A.
Visiting L.A. is always a good time but the traffic… now that's another story. Leave the car behind and travel like a true Angeleno. At only $1.75 for a day pass, taking the metro is a no-brainer.
One notable line is the Purple Line. It runs from downtown L.A. through Koreatown, stopping at iconic L.A. landmarks along the way. Make sure to stop at Philippe's, Figueroa Street and the Downtown Jewelry District.
For more info on how to take the metro, click here.
Image courtesy of discoverlosangeles.com

8. Be a tourist in your own city.
If you live in a city long enough, you tend to know all the ins and outs and local hang outs like the back of your hand. But how much do you really know about your city?
Try visiting historic libraries, museums or monuments. Learn a little about your city's history so you can wow your friends with random trivia next time you hit the town.
Bonus: For even more fun, pretend you actually are a tourist. Ask for directions, wear a fanny pack and ask strangers where the locals hang out.
Image of historic Downtown Riverside courtesy of roadtrippers.com
9. Go to the movies.
OK, maybe this one sounds a little basic, but this isn't any movie theater, this is Street Food Cinema . A hybrid of live music, food trucks and a variety of iconic and innovative venues, Street Food Cinema is changing the face of the movie viewing experience as we know it. With multiple locations in L.A. ranging from Exposition Park to Santa Monica, there is no way you can pass this up.
Bonus: Catch the 30th anniversary of Pretty in Pink on Saturday, March 26 at the historic Million Dollar Theater in DTLA.
Image courtesy of timeout.com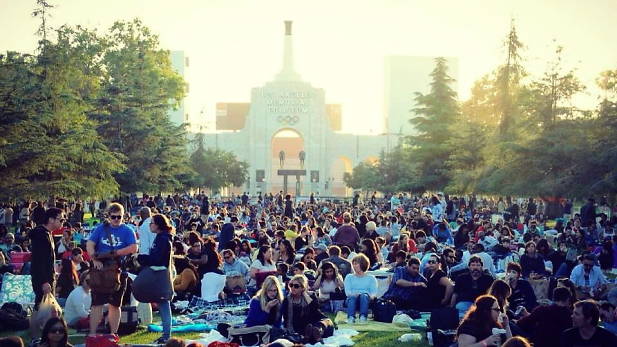 10. Lastly, don't underestimate how far a little R&R can go.
Staying in is seriously underrated. Whether it's the first day, last day or any day of your spring break, do yourself a favor and just stay in.  Bundle up on the couch with hot tea because Netflix is going to be your best friend for the next 24 hours. Spring break is yours for the taking. Maybe you can conquer it after a little nap.
Image courtesy of imgur.com

Now that we've given you the rundown, go out there and make the most of your week off. Tell us how you spent spring break! Share with us using the hashtag #CampusCropChat on Facebook, Twitter or Instagram, and remember to follow us on Snapchat @asicpp.