Our Different Holidays
---
It's no secret that a lot of us look forward to Christmas and New Year's this holiday season, but have you ever stopped to think about the endless amount of holidays people from other cultures celebrate? This season, let's take a second to look beyond Christmas and New Year's and learn a little more about the cultures surrounding us!
Hanukkah (Jewish)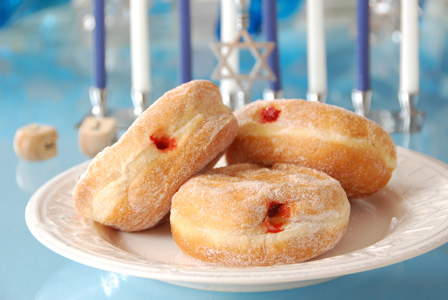 Hanukkah is celebrated on the 25th day of Kislev, which is the third month of the civil year and the ninth month of the ecclesiastical year on the Hebrew calendar. This year, Hanukkah is celebrated from Tuesday, Dec. 16 to Wednesday, Dec. 24. Hanukkah is a holiday that commemorates the rededication of the Holy Temple and is observed for eight nights and days. Each night, one candle is lit on the menorah until all the candles have a flame. During Hanukkah, many people like to play dreidel and eat oil based foods such as donuts and latkes, which are potato pancakes.
Kwanzaa (African)


Kwanzaa is celebrated from Friday, Dec. 26 to Thursday, Jan. 1 this year. This holiday celebrates African culture and upholds seven core principles:
Umoja or unity, which urges individuals to maintain unity with their communities, families, friends nation and race.
Kujichagulia or self-determination, which encourages people to define themselves, name themselves, create for themselves and speak for themselves.
Ujima or responsibility, which suggests that our loved ones' responsibilities and problems are also our responsibilities and problems.
Ujamaa or cooperative economics, which says that although one should create business individually, the community should profit as one.
Nia or purpose, which prompts individuals to work hard to restore the people to their traditional greatness.
Kuumba or creativity, which asks individuals to work so that they leave their community even more beautiful and beneficial than when they entered it.
Imani or faith, which emphasizes the importance of faith in our families, friends, teachers and leaders to achieve success.
Those who celebrate Kwanzaa often decorate their homes with art and cloths called kente and also wear pieces of clothing called kaftans. They also have many symbols and practices that they hold very dear, such as the kinaras, which is a candle holder that represents African roots.
Pancha Ganapati (Hindu)


Pancha Ganapati is a festival celebrated from Sunday, Dec. 21 to Thursday, Dec. 25 in honor of Lord Ganesha, the elephant-headed figure of culture and new beginnings. During these five days, participants in the holiday make a shrine in their home in honor of Lord Ganesha, and each day, they celebrate and focus a different loved one in their life. Individuals exchange gifts, food, cards and sweets with family the first day, friends the second day and business associates the third day. On the fourth day, the holiday calls for an emphasis on the importance of culture and individuals gather to play music, dance and share artistic gifts. On the fifth day, the focus is charity and religion; celebrators open their gifts from the week and are called to open their hearts to new things for the upcoming year.
Lunar New Year (Chinese, Vietnamese, Korean, Malaysian and more)


Lunar New Year is a holiday more widely known around the world because of how many different nations celebrate it. Lunar New Year is often around late January or early February in comparison to the typical January 1st. Traditions vary from nation to nation, but typically during Lunar New Year, celebrators set off fireworks to bring prosperity and good fortune; light lanterns and write poems and riddles; and exchange red envelopes as a sign of wishing good luck, fortune and happiness to the receiver.
Will you be celebrating any of these holidays this year? Are there other holidays you'd like to share with us? Let us know with the hashtag, #CampusCropChat on Facebook, Twitter and Instagram!